Virchow Prize
for global health
2023
VIRCHOW-PREIS FÜR GLOBALE GESUNDHEIT 2023
UNTER DER SCHIRMFRAUSCHAFT VON
BÄRBEL BAS
PRÄSIDENTIN DES DEUTSCHEN BUNDESTAGES
 Virchow-Preis für Globale Gesundheit Laureatin 2023
Der Virchow-Preis für Globale Gesundheit 2023, unter der Schirmfrauschaft der Bundestagspräsidentin Bärbel Bas stehend, wird verliehen an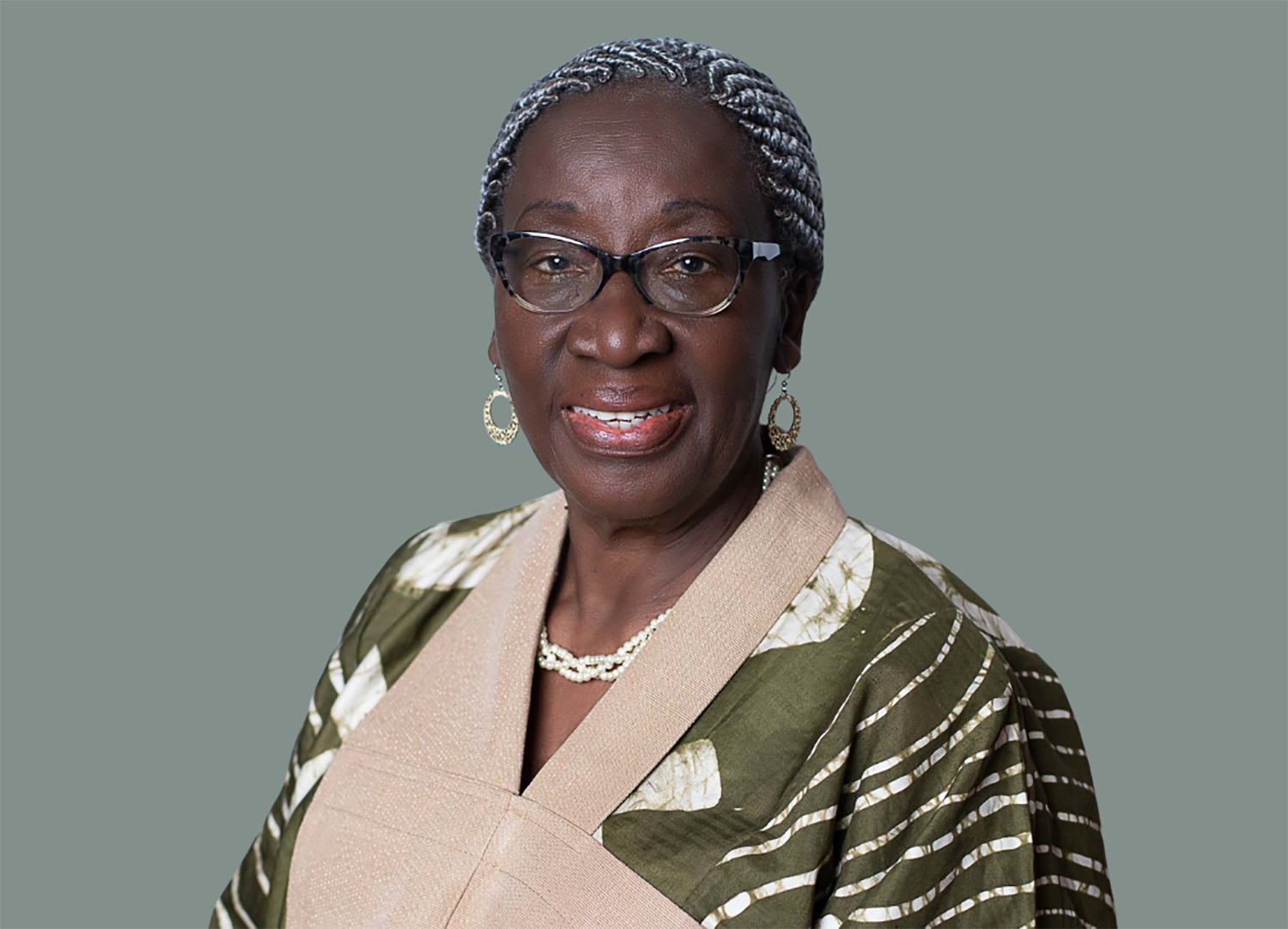 Rose Gana Fomban Leke wurde in Kamerun geboren und begann ihre beeindruckende akademische Laufbahn am St. Mary-of-the-Woods College in Indiana, USA. Nach ihrem Bachelor absolvierte Rose Leke ein Masterstudium in Zoologie an der University of Illinois, Champagne Urbana, USA, und promovierte 1979 in Mikrobiologie und Immunologie an der Université de Montréal.
Seit mehr als vierzig Jahren setzt sich Rose Leke mit beispiellosem Engagement für die Förderung von Forschung und für eine Bekämpfung und Ausrottung tödlicher Infektionskrankheiten ein. Gleichzeitig ist sie eine beispiellose Advokatin für Frauenrechte und die Geschlechtergleichstellung in der Wissenschaft. Diese Bemühungen haben immens dazu beigetragen, die gesundheitsbezogenen Ziele der Nachhaltigen Entwicklungsziele der Agenda 2030 der Vereinten Nationen (Sustainable Development Goals, kurz: SDGs) und "Gesundheit und Wohlergehen für alle" voranzutreiben.
Rose Leke's herausragende Beiträge, die sie seit ihren frühesten akademischen und wissenschaftlichen Forschungsanfängen erfolgreich innehatte und gestaltete, ihre kontinuierlichen Bemühungen, Pionierarbeit für die Rechte von Frauen und Mädchen in der Wissenschaft, und die unermüdliche Führungsrolle bei der Bekämpfung und Ausrottung tödlicher Krankheiten, von denen die vulnerabelsten Bevölkerungsgruppen betroffen sind, führten zu der Entscheidung des Virchow-Preis-Komitees, Rose Gana Fomban Leke den Virchow-Preis für Globale Gesundheit 2023 zu verleihen.
Das Virchow-Preis-Komitee und die Virchow Foundation für Globale Gesundheit gratulieren Professorin Rose Leke herzlich dieser Anerkennung.
Begründung des Virchow-Preis-Komitees
von Roland Göhde,
Co-Founder & CEO der Virchow Foundation für Globale Gesundheit (nur in englischer Sprache verfügbar)
On behalf of the Virchow Foundation for Global Health and the Virchow Prize Committee it is my great privilege to announce that the 2023 Virchow Prize for Global Health is bestowed upon
 ROSE GANA FOMBAN LEKE 
for her distinctive and exceptional lifetime achievements in strengthening global health, pioneering infectious disease research towards a malaria-free world and relentless dedication in advancing gender equality
Rose Gana Fomban Leke was born in Cameroon and began her impressive and exemplary academic career at the St. Mary-of-the-Woods College in Indiana, United States.
Finishing her undergraduate studies in 1966, Rose Leke completed a master's degree in Zoology with her thesis focusing on molecular parasitology at the University of Illinois at Urbana-Champaign in the lab of Professor Paul Silverman. Dr Leke continued to pursue a Ph.D. in Microbiology and Immunology at the University of Montréal which she obtained in 1979.
Professor Rose Leke began at the University of Yaoundé One as a Lecturer in 1985, advancing to Director of the Biotechnology Centre and Head of the Department of Microbiology, Haematology, Immunology and Infectious Diseases within the Faculty of Medicine and Biomedical Sciences twenty years later.
In 2002, Dr Leke was appointed Chair of the Board of Directors of the Institute of Medical Research and the Studies of Medicinal Plants at the Ministry of Scientific Research Yaoundé by presidential decree. In the year 2014, Rose Leke was called to chair the Scientific and Educational Council by national decree of the Rector of the University of Yaoundé. These positions she still holds today underscore Rose Leke as an invaluable figure at the higher research institution of Cameroon.
Emeritus Professor Leke is a fellow of the Cameroon Academy of Sciences, member of The African Academy of Sciences, member of The World Academy of Sciences, and an International Honorary Fellow of the American Society of Tropical Medicine and Hygiene.
Rose Leke continues to actively shape and engage in the global health landscape, advising several prestigious initiatives and boards.
Among them, the Africa Regional Certification Commission for Poliomyelitis Eradication and the Cameroonian National Immunization Technical Advisory Group, serving as Chair for both.
Professor Leke is Co-Chair of the Advisers to the World Health Organization on the Development of the Framework for Allocation of Malaria Vaccine Supply and Co-Chair of the board for Harvard University's Defeating Malaria initiative.
She serves on the WHO's Malaria Policy Advisory Group, the Malaria Elimination Oversight Committee, is a member of the Global Certification Commission.
Recently in this year, Rose Leke was appointed Chair of Gavi's Independent Review Committee of experts mandated to review applications from countries for all types of new funding support. Professor Leke's role is of crucial importance, ensuring a holistic view of the broad portfolio of immunization and health systems support Gavi provides.
As one of six women selected for the African Union Kwame Nkrumah Scientific Award for Women in 2011, Rose Leke truly and fully committed to help promote and elevate the participation of women in science.
Professor Leke applied together with other senior scientists and colleagues, for the World Health Organization's Special Programme for Research and Training in Tropical Diseases grant, proposing a network that could address gender disparity in scientific research.
From this grant, the Higher Institute for Growth in Health Research for Women was established. Comprised of prominent women scientists, the Higher Institute aims to actively support and build skills for women in health research careers through a mentor-mentee programme. Since its implementation it has grown to greater heights with a tremendous impact, spurring interest from younger women in health science research.
The HIGHER Programme is the result of her transformative leadership and influential voice, which has consistently reshaped both systems and societies for gender equity.
This continued dedication has solidified Rose Leke as a truly inspirational icon for women and girls on the African Continent, propelling a future generation of great minds.
Rose Leke's advancements in fighting for gender equity are joined with her important research and contributions to our collective knowledge of deadly infectious diseases.
Professor Leke is recognized as a leading African immunologist, parasitologist, malariologist and as consistent, crucial key figure, who has pioneered research and played an instrumental role in advancing the global health landscape on her continent and beyond.
A primary focus of her scientific work has been on parasitic infections, paving the way towards new grounds in clinical care, particularly innovative research in malaria and pregnancy-associated malaria.
Bolstering her remarkable research career, Rose Leke has also demonstrated exceptional dedication to polio eradication by being in the forefront of comprehensive initiatives on the ground. These collaborative efforts between local partners and multinational organisations led to improved vaccination access for every child and near eradication of wild polio.
She has evaluated and reshaped approaches to effectively contributing to unparalleled successes in improving community health outcomes. Moreover, she has mobilized the transformation of established health science and research institutions, improving access to those less represented and marginalized in society.
The Virchow Prize Committee is convinced that Rose Leke has displayed remarkable dedication to nurturing the next generation of researchers, exhibited a unique record of achievements in crucial areas of civil society, politics and sciences and has shown exceptional resolve, consistency and leadership skills for decades.
Combined, these efforts have contributed immensely to SDG 3 "Good Health and Well Being for All", SDG 4 "Quality Education", SDG 5 "Gender Equality", SDG 17 "Partnerships for the Goals" and their intersectionality with the other goals of the United Nations 2030 Agenda.
The utmost impressive contributions from the many roles Professor Leke successfully held and shaped since her earliest academic and scientific research beginnings, her continuous efforts to trailblaze for women and girls in science, and her tireless leadership in fighting for the eradication of deadly diseases affecting the most vulnerable led to the decision of the Virchow Prize Committee to award Rose Gana Fomban Leke the 2023 Virchow Prize for Global Health.
The Virchow Prize Committee and the Virchow Foundation for Global Health cordially congratulate Professor Rose Leke as the 2023 Virchow Prize for Global Health Laureate.
Rose, if I may, heartfelt congratulations to you!
Berlin, September 11, 2023
Glückwünsche von Mitgliedern des Virchow-Preis-Kommitees