The Virchow Foundation for Global Health Council is comprised of members with diverse expertise and competencies, across sectors (academia, civil society, politics, international organisations, private) and global representation.
Members of the Council:
provide strategic guidance and advise on the direction of the Virchow Foundation for Global Health, aiming to realize the Foundation's purpose and mission as laid down in the Statutes of the Foundation;
advise on how the work of the Foundation and the Prize can contribute to SDG 3 and other health-related SDGs of the UN 2030 Agenda;
advise on the formation of the Virchow Prize Committee;
represent, promote and support the Foundation and its goals within their own networks and in relevant meetings and events.
As part of its work, the Council may also establish ad hoc or long-term committees and working groups for specific activities.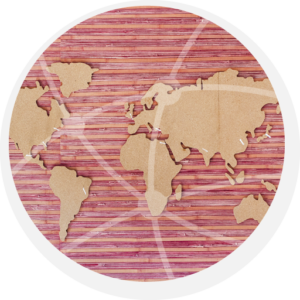 PROF. DR. TILL BÄRNIGHAUSEN
Director, Heidelberg Institute of Global Health
Co-Chair of Steering Committee, Global Health Hub Germany
PROF. DAME SALLY DAVIES
UK Special Envoy on AMR
Department of Health and Social Care

MEET OUR COUNCIL MEMBERS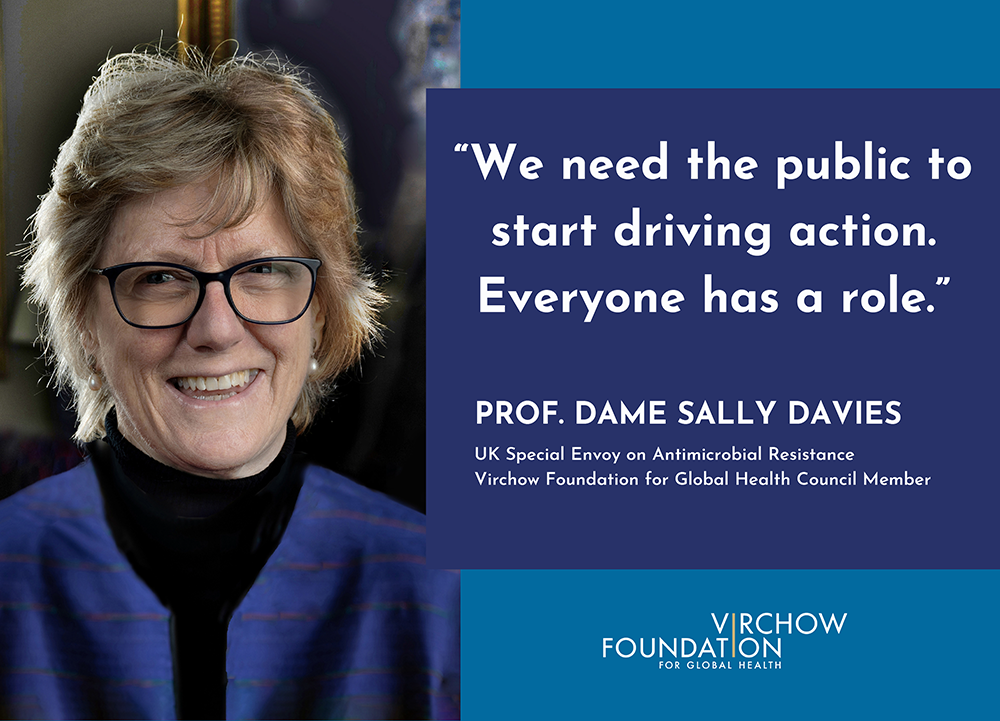 Professor Dame Sally Davies is the Special Envoy on Antimicrobial Resistance for the United Kingdom. Prior to this role, Dame Sally was the Chief Medical Officer for England and Chief Medical Adviser to the UK government from March 2011 to September 2019, having held the post on an interim basis since June 2010. She shares her motivation for joining the Council and raising awareness for global health.
From your perspective, why is engagement and awareness raising for global health important?
We need the public to start driving action. On antimicrobial resistance (AMR), public engagement does not currently match the scale of the threat, and this will directly impact our ability to change behaviours and policies,. Everyone has a role – leadership can come from the top, as well as from grass-roots, so we need to work together.
How are you committed to engaging in global health topics within your current professional role and activities?
As UK Special Envoy on AMR, I engage bilaterally and multilaterally to raise awareness and drive action on AMR. In 2021, I advised the UK's G7 Presidency to secure bold commitments on AMR, and I am now honoured to be a Member of  the UN Global Leaders Group on AMR to accelerate action across all sectors. I co-lead the UK's Investor Action on AMR initiative to galvanise the voices and influence of investors to support antibiotic sustainability. In my role as Master of Trinity College, I founded and launched The Trinity Challenge, a global initiative to use data to better respond to global health emergencies.
How do you hope to achieve greater awareness and engagement for global health in your new role at the Virchow Foundation for Global Health? How can the Virchow Prize for Global Health help to increase awareness?
I hope to collaborate with other members to share expertise and best practice, and inspire collaboration across sectors and countries on global health. Our collective network will hopefully be able to find new ways and new platforms of engaging; I also hope to inspire young people to follow in the footsteps of Virchow Prize winners.
PROF. DR. CHRISTIAN DROSTEN
Director, Institute of Virology
Charité – Universitätsmedizin Berlin
PROF. DR. VICTOR J. DZAU
President
U.S. National Academy of Medicine (NAM)
DR. RANA A. HAJJEH
Director, Program Management (DPM)
World Health Organization (WHO), Egypt

DR. CHIKWE IHEKWEAZU
Assistant Director-General
World Health Organization (WHO), Switzerland
PROF. DR. ILONA KICKBUSCH
Founding Director, Global Health Centre
Graduate Inst. of Intl and Development Studies Geneva
PROF. DR. HEIDI LARSON
Founding Director, The Vaccine Confidence Project
London School of Hygiene & Tropical Medicine
PROF. DR. JOANNE LIU
School of Population and Global Health (SPGH)
Faculty of Medicine and Health Sciences, McGill University

PROF. DR. ELIZABETH MACINTYRE
Board Member, Biomedical Alliance in Europe
President, European Haematology Association (EHA)
BENOÎT MIRIBEL
Secretary General
One Sustainable Health Forum, France
DR. MATSHIDISO MOETI
WHO Regional Director for Africa
World Health Organization (WHO), DRC

DR. ANDERS NORDSTRÖM
Ambassador for Global Health
Ministry of Foreign Affairs, Sweden
PROF. DR. OLE PETTER OTTERSEN
President
Karolinska Institutet
President
European School of Management and Technology (ESMT)

PROF. DR. JOHN-ARNE RØTTINGEN
Ambassador for Global Health
Ministry of Foreign Affairs, Norway
PROF. DR. LUCIANO SASO
Vice Rector
Sapienza Università di Roma
DR. BERNHARD SCHWARTLÄNDER
Global Health Envoy
Embassy of the Federal Republic of Germany, Beijing
STÉPHANIE SEYDOUX
Ambassador for Global Health
Ministry for Europe & Foreign Affairs, Republic of France
HON. MICHEL SIDIBÉ
Special Envoy for the Africa Medicine Agency (AMA)
African Union (AU)
PROF. DR. AMIRHOSSEIN TAKIAN
Vice Dean, School of Public Health
Tehran University of Medical Sciences
PROF. DR. LOTHAR H. WIELER
President
Robert Koch-Institute